« Back to Events
This event has passed.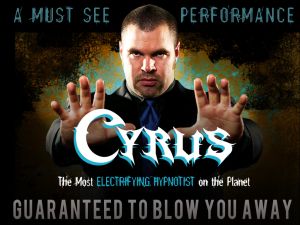 HYPNOTIST CYRUS CANADIAN TOUR
THE MOST ELECTRIFYING HYPNOTIST ON THE PLANET!
Mystical Entertainment for the whole Family to enjoy
                 Canada's very own—the highly anticipated showman extraordinaire—Cyrus brings you the hottest theatrical stage hypnosis show in North America.  Audiences everywhere are mesmerized saying, "That was the greatest, funniest show I ever saw!" Cyrus' shows are filled with fun, high energy and non-stop laughter!  The interactive entertainment value is beyond compare!  Expect nothing less than sensational when you watch Cyrus in action!  Cyrus provides an incomparable professional, entertainment experience that has been proven time and again to exceed the expectations of all audiences everywhere.
            Cyrus is single handedly changing the face of stage hypnosis entertainment and fans come from everywhere to be put under his spell.  With his unmatched stage presence and magnetic personality, Cyrus works his crowds with a practiced flair.  He is comfortable with all types of audiences.  Cyrus' entertainment style is comedic, enthusiastic, energetic and sincere, never dull, dry or clinical.  Cyrus and his love of entertainment, appreciation and respect for his audience and participants are apparent to all.
As Cyrus develops a strong connection with his volunteers, they surrender to the power of suggestion to become talented musicians, hilarious ballet dancers and rock and roll legends giving the audience a show to be remembered!
You too could become a star!  Guests are engaged and encouraged to participate in a wide variety of demonstrations designed to leave spectators amazed and thoroughly entertained.
The fun, the thrills, the uncontrollable laughter, it's the most hilarious journey into the mind you will ever take!  Witness the power of hypnosis!  A guaranteed unforgettable experience!
Show rating is PG -13.  Show time is 90-120 minutes in length.
Click here to see a video promo for Cyrus.
Get your TIXS NOW!!
LAS VEGAS MEETS OWEN SOUND!!!
iCal Import
+ Google Calendar